AI ALLEGRO FIELD DATA PC IS USED TO CAPTURE CRITICAL PIPELINE AND FACILITY DATA
Built to collect periodic surveys data, close interval or DCVG with impeccable accuracy, Allegro Data combines seamlessly with PCS Compliance Software and Concentric Survey Manager.
WHY USE AI ALLEGRO FIELD DATA PCS?
Allegro Field Data PCs are designed to increase productivity and data accuracy by saving data collection and transcription time, as well as verifying test locations and eliminating errors associated with manual entry.
How ALLEGRO MX FIELD DATA PC Works:
Download survey schedule and route
Collect Pipeline or facility data
Record GPS Coordinates
Record data and Notes in Allegro
Download data to PCS or other software for audits and reports.
How ALLEGRO RFID FIELD DATA PC Works:
Scan an RFID tag on a test point, rectifier, bond or other equipment. Location is verified and automatically included with the related inspection survey data on Allegro.
Read tag – If no tag is present onsite or is incorrect, users can generate and confirm a new tag, or alter the pre-existing tag, depending on their permissions.
Perform inspection.
100% verifiable data in Allegro.
Download data to PCS.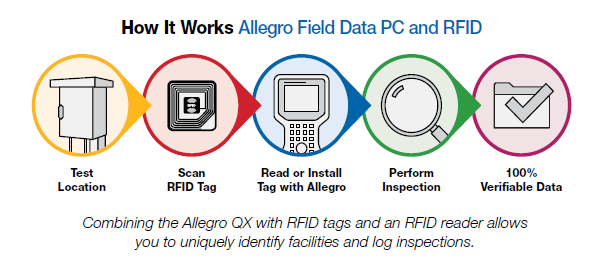 Anode Engineering have years of experience ensuring you receive the correct model to suit your precise requirements.
Find out more about American Innovations